Understanding the relationships between people, topics and cloud events provides the foundation of the next generation of cross-cloud, intelligent applications.

Microsoft has quietly introduced, as part of the Microsoft Graph, its Office 365 big data and AI engine, the concept of topic, enabling developers to get the list of people who are involved in a particular project or customer. Is this...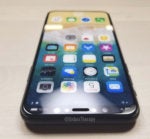 The iPhone just turned 10 and Apple sold 1.2 billion of the device, which has transformed our lives. Should we celebrate?
Load More