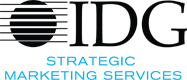 IDG Strategic Marketing Services helps the top technology companies reach customers with timely, compelling and targeted content. The IDG Influencer Network consists of carefully vetted experts and content marketing specialists who produce content on behalf of our clients, under the direction of our in-house Content Strategists.
We are always looking to expand our roster of experts who have technology domain expertise and are interested in blogging, hosting webcasts, or other content development and social media activities in support of our technology clients. We're also looking to deepen our bench of experienced freelance writers, designers, photographers, and other content creators to develop blog posts, white papers, infographics, and other digital content on assignment.
What are the benefits?
As a member of the IDG Influencer Network:
Your work will be published on IDG and/or client-branded sites, providing exposure to a worldwide audience of technology decision-makers
You'll have an opportunity to collaborate with subject matter experts from the world's leading technology companies
You'll have exposure to IDG's global web properties and social networks
You'll be aligned with an established, trusted publishing brand
You'll be paid competitive rates for your expertise
There is no cost to join the IDG Influencer Network, no minimum commitment for participation, and we will never share your contact information with third parties.
If you'd like to be considered for the IDG Influencer Network, please share some information and we'll get back to you.